Hiking & Walking at Palisades Tahoe
Access scenic hiking trails with stunning views of Lake Tahoe
The Sierra Nevada provides one of the most spectacular settings in the world, making Palisades Tahoe any hiker's paradise. You can access a variety of hiking trails that lead to waterfalls, alpine lakes, meadows, peaks, and lookouts right from The Village at Palisades Tahoe base area or from Alpine Meadows Road. Whatever path you choose, you are sure to enjoy the panoramic views from Palisades Tahoe's high alpine environment.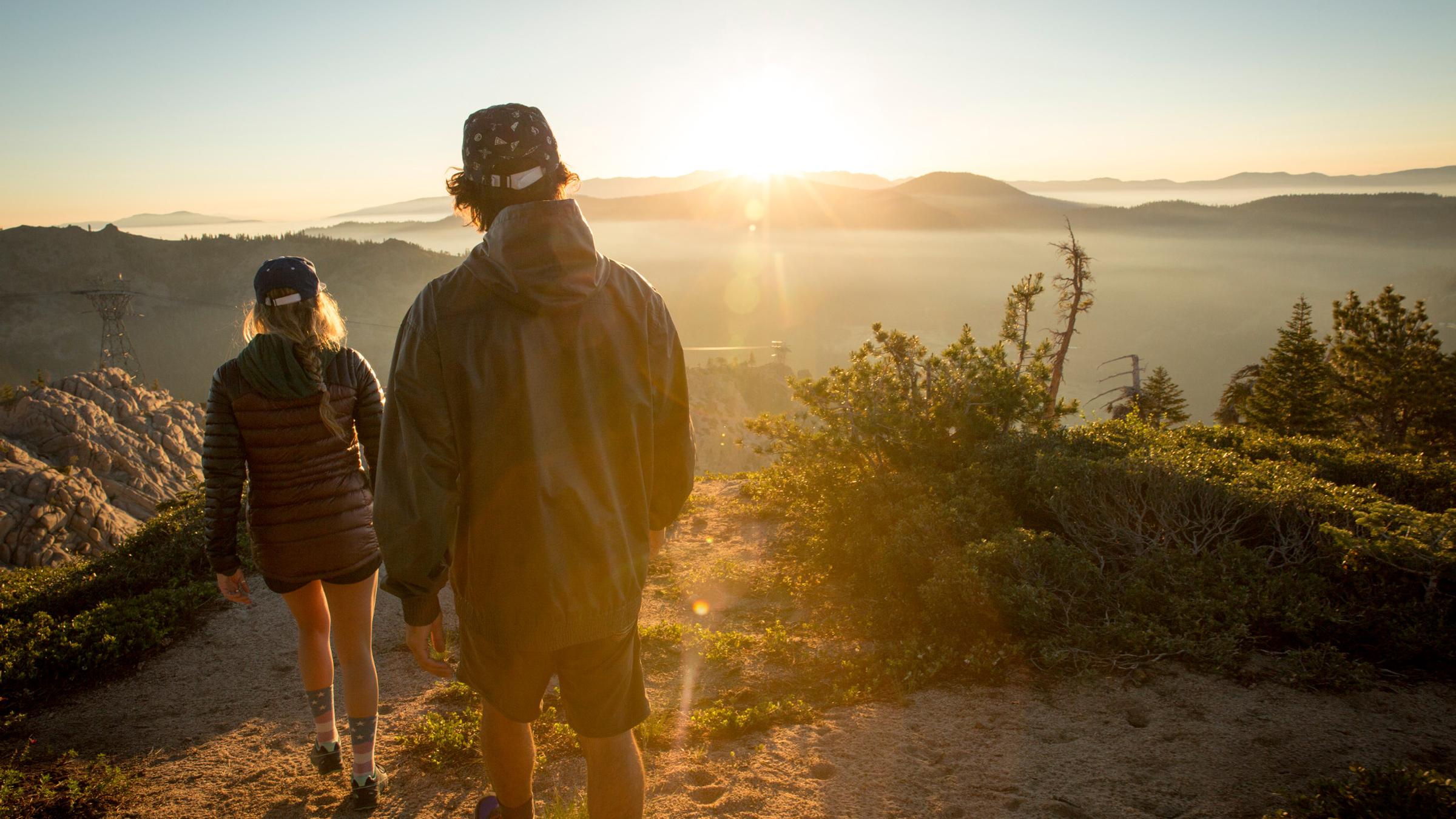 Plan Your Hike
Want to meander through meadows full of wildflowers? Climb to the weathered buttress atop our namesake, the Palisades? Dunk yourself in a freezing cold alpine lake? Your adventure is just beginning when you make The Village at Palisades Tahoe the base area for your hike. 
NEW THIS SUMMER!
Guided Hike with a Picnic
Following a scenic Aerial Tram ride that climbs 2,000 vertical feet, our North Face Hiking Guides will lead you on one of Lake Tahoe's best hikes, followed by lunch at 8,200 feet. Your guide will reveal the many wonders of nature in the flora and fauna along the trails and describe the geological aspects of these incredible surroundings. Enjoy a hiker's charcuterie lunch created by the Palisades Tahoe culinary team on a private deck with amazing views before the final descent to High Camp. This hike will range in length and difficulty depending upon consultation with your guide.


Get More Information
Hikes & Walks from High Camp
Easy to Moderate
High Camp Loop (approximately 1.23 miles): This gentle trail begins at High Camp, traverses the ridge to the top of the Mountain Meadow Chairlift. Hikers then loop down through the upper mountain's spacious open bowls to High Camp. During the winter this area serves as Palisades Tahoe's beginner ski and snowboard slopes.
High Camp to the top of the Gold Coast Chairlift (approximately .92 mile): Follow the High Camp Loop trail past the Mountain Meadow chairlift and continue until you reach the Gold Coast lift. This trail offers views of Lake Tahoe, the surrounding mountains and the meadows below.
High Camp to the top of the Emigrant Chairlift (approximately 1.38 miles, 680' elevation gain): This trail offers a stunning 360 degree view of Lake Tahoe and surrounding mountains from the top. The historic Watson Monument is located near the top of the chairlift.
Moderate to Difficult
High Camp to the top of the Palisades (approximately 2 miles, 844' elevation gain): Follow the trail from High Camp, past the Gold Coast lift and continue up to the top of the Palisades for a view of the Granite Chief Wilderness and Olympic Valley below.
High Camp to Shirley Lake & down Shirley Canyon (approximately 3.6 miles, 2,109' elevation loss): This is a great half day hike through a mountain canyon that passes by waterfalls and spectacular granite boulders. Hikers begin on either the Shirley Lake trail (a dirt road) or the Solitude trail (a narrower single track trail). Once the trails meet and you reach Shirley Lake, hikers can either hike back up to High Camp and ride the Aerial Tram down for free or hike down the canyon. Please Note: This trail may sometimes be hard to follow, so remember the general rule is to keep the creek on your left side and follow it down until you arrive at the base of the mountain. There are also some steep sections to negotiate through the granite so hiking boots are strongly recommended.
Hikes & Walks from The Village at Palisades Tahoe
Easy to Moderate
Trollstigen (approximately .6 mile): This gentle trail traverses the base of Olympic Valley from Everline Resort to the Village at Palisades Tahoe. The trail meanders in and out of the trees just above the valley floor. Enjoy spectacular views of the meadow and surrounding peaks.
Moderate to Difficult
Shirley Canyon Trail (approximately 3.6 miles, 2,109' elevation gain/loss): This is one of Lake Tahoe's best half day hikes. Hike alongside waterfalls (seasonal; early summer only) and granite boulders and take in breathtaking views of Olympic Valley. To access the trailhead, park in the main Palisades Tahoe parking lot and walk to the end of Shirley Canyon Road. This trail can be difficult to follow, so remember the general rule is to keep the creek on your right and follow it up for about 2.5 miles until you come to giant granite rock slabs. You will cross over this section and continue up to Shirley Lake. There are steep and rocky sections, so hiking boots are strongly recommended.
Thunder Mountain Trail (approximately 3.2 miles, 2000' elevation gain/loss): The Thunder Mountain Trail is the perfect hike to explore Olympic Valley from the base to High Camp. Hikers start their adventure to the north of Cushing Pond (to the far right of the Wa She Shu Chairlift). The trail is marked with three upright logs tied together and there is a map at the trailhead. From here you will walk towards the very wide bridge, which is where the route begins. The trail is clearly indicated by blue markings. Continue on the trail winding up the mountain. Your final destination will be the High Camp complex, where, during operating hours, you can visit our restaurant, marketplace, enjoy summer activities or ride the Aerial Tram back to the base of the mountain. PLEASE NOTE that the Thunder Mountain Trail passes over the summer construction access road. Please be aware of vehicle and heavy machinery traffic. Do not continue on the summer construction access road as it is closed for hiking.
World Cup Trail (approximately .75 miles, 600' elevation gain): Use this trail to access the national historic and scenic designated Western States Trail, which stretches from Salt Lake City, Utah to Sacramento, California.
The North Face® Free Daily Naturalist Walks
Join one of Palisades Tahoe's experienced naturalists for a memorable mountain experience on our scenic 1.5 mile trail around High Camp during a Naturalist Walk.
Naturalist Walk Details

Walks available daily starting June 30
Guided hike is 1.5 miles and departs from High Camp
Meet at High Camp lobby at 10:30am and 1:30pm
No reservations necessary
All hikes are weather and conditions permitting
Call 800-403-0206 for more information.



Naturalist Talks
Learn about the natural history of Lake Tahoe and Olympic Valley during one of our free Naturalist Talks, available Saturdays and Sundays this summer.

Naturalist Talk Details

Talks available Saturday & Sunday
Meet at High Camp Deck at 11am & 1pm
No reservations necessary


Call 800-403-0206 for more information.


Use the Palisades Tahoe App in the Summer!

Download or upgrade our Palisades Tahoe app for summer activities: hiking maps, track hiking performance, find your friends on hiking trails, and more!


[No Associated Data Item]
Here's a few tips to make the most out of your day on the mountain.

Wear sturdy shoes or hiking boots. Many of the mountain trails traverse rugged terrain.
Palisades Tahoe's mountain environment is prone to sudden weather and temperature changes so please carry adequate clothing.
Bring plenty of water (never drink directly from a stream) and a snack or energy bar.
Always use sunscreen and wear a hat and sunglasses for protection from the high altitude sun.
Please respect Palisades Tahoe's beautiful natural environment by observing all signs and staying on designated trails and roads. Do not cut switchbacks. Stay out of any construction or roped off areas.
In case of an emergency, dial 0 from a phone at the base of our lifts or have a Palisades Tahoe team member contact an EMT.
Please stay off chairlifts and towers. During our summer maintenance, lifts may be started without warning.
Lightning travels at the speed of light. If lightning is in the area, ALL Tram operations will be suspended until lightning clears.
No smoking, please. The fire danger in this area is very high during the summer.




We're Dog-Friendly!




You are welcome to bring your dog with you on your hike at Palisades Tahoe. Please be sure to bring a leash as all dogs must be leashed while riding in the Aerial Tram and inside any buildings or facilities. There is no charge for dogs on the Aerial Tram. Once at High Camp, your dog is welcome on the hiking trails, however, dogs are not permitted at the roller skating rink and pool, nor in any restaurants. We ask that you use your best judgment in leashing them on the trails.